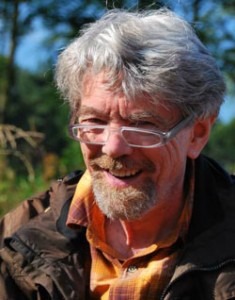 Marcus Cumberlege was born in Antibes (France) shortly before the war and migrated to Chelsea in the blitz, then to County Cork, Madrid, Peru, back to London, Paris and Connemara, before settling with his Flemish wife Maria in Bruges, Belgium in 1972.
He won a scholarship in English to Oxford, where he boxed and shot for the University, and later an Eric Gregory Award for 1966 (leading British poets under 30), adjudicated by Ted Hughes.
His first collection was published by Anvil Press Poetry of London in 1968. Twenty subsequent volumes have appeared in Belgium, including his SELECTED POEMS 1963-2009, published by Van de Wiele in 2010.
Marcus Cumberlege has written much in lyrical stanzas, but he is no stranger to prose poetry, cut-up, automatic writing, haiku, concrete and the extended line.
For nearly forty years he has been a familiar figure in Bruges, collaborating with poets, artists and musicians, organizing readings and encouraging the younger generation. He has a daughter, married and living in France.
Marcus prepared a short biography for inclusion in Selected Poems, published in October 2010.
Marcus died on 30th December 2018, a week after his 80th birthday.