1400 Miniaturen
In more than 40 years' work gathered here, Marcus has tried to capture the feeling of the eternal in a moment.
Apart from the two main sections of poems in traditional (long) and modern (short) forms, this book contains a number of eye-opening travelogues where the poet's notebook has served him as a camera.
Marcus has taught Haiku at the University of Lugano under Professor Henri Van Praag, in his English language classes at the Balsemboom in Bruges, and at the Stockholm School of Economics, where his students learned to save words.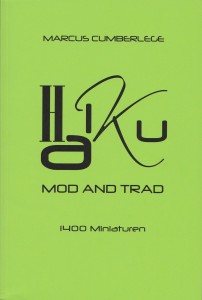 SIX MODERN HAIKU
Dawn –
a limitless supply
of free lighting.
An ice-cube
melting in the blue –
summer moon.
White as flour –
the baker's
early morning face.
Lovingly
she shows me them –
first wisteria buds.
A seagull dives
downwards – to sit
on its own shadow.
All spring
and most of the summer
I wore her T-shirt.
HOT MORNING
Market Square –
a cool breeze
fans my face.
Tourist-hunting –
haiku camera
in hand.
Gazing upwards
at a striking clock –
Japanese youngsters.
Selling white ladies –
the red ice-cream van
parks in front of me.
I stare at wispy girls
staring at a horse –
cameras poised.
Benches invite me
from across the square –
I'll die reaching one.
Gone for ever –
the cool kids
photographed here.
A hungry mouth-organ
moans in the shadows –
more customers arrive.
His guitar gets angry –
why don't those Frenchies
toss him a coin?
GUESS – on her pink breast
a suggestive word
in capital letters.
Carried away with the crowd –
the unapproachable
African beauty.
Homeward I drift
on heavy feet –
feeling a hundred.