TWENTY FRIENDLY QUESTIONS

Nederlandse Teksten met etsen van Horst De Blaere.
(Dutch texts with etchings by Horst De Blaere.)
Gedrukt op (printed on) 24 kaartjes (cards): 6 x 9 end 4 x 14
Marcus' eerste gedichten in het Nederlands, verschenen in 1977.
(Marcus' first poems in Dutch, 1977.)
Translations below by Jeremy Cooper
Click here for Horst (now Tarr) De Blaere's website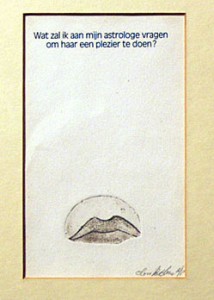 What shall I ask my astrologer
in order to please her?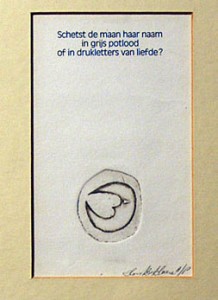 Does the moon sketch her name in
grey pencil, or in the letterpress of love ?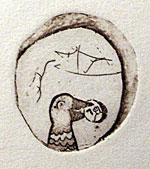 Waar vliegt die pechvogel met een zilveren dollar in zijn snavel ?
Where is the magpie flying to with a silver dollar in its beak ?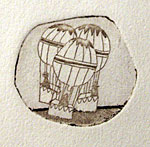 Grijpen de wedstrijden voor luchtballoons op zondag voormiddag plaats?
Do the hot-air balloon competitions take place on Sunday morning?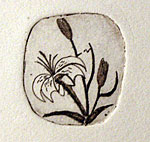 Worden de lelies gemarteld door de kreten van de sirenen?
Are the lilies tortured by the cries of the sirens?