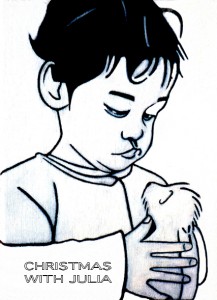 In July of 2012 Marcus and Maria became the grandparents (Opa and Oma) of Julia Kusum Ravassat Cumberlege, now a French national and living South-East of Paris.
Invited to celebrate Christmas with the young family, the poet got to work and in one month produced an 80-page collection for his grand-daughter, called Christmas with Julia.
He hopes that, by early adolescence, she will have learned enough English to read the book.
Only 6 copies were printed, one being circulated among family and friends, the others donated to libraries. This is an opportunity for those living outside Belgium to enjoy the book. You may download an Adobe Reader file of the book to read on screen or to print out:
DOWNLOAD file for printing (paginated for double-sided printing and binding)
DOWNLOAD file for on-screen viewing or non-paginated printing