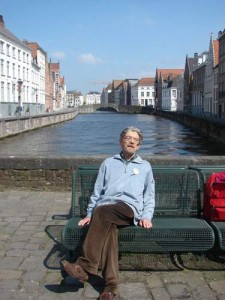 Learning to Say The Nembutsu
an on-line publication. It deals with a lesser known form of Buddhism in the West, namely Shin or Pure Land. The poem discusses the essential practice of this ages old Chinese/Japanese school, formerly known as Amidism, and relates in detail the poet's experience of it.
---
Reflections in Water
a free eBook of meditations from Delphic Ghent Books, published January 2011 (on the eBook website).
---
VIDEO 4 minutes:
The launch of Selected Poems at the Gothic Room of Bruges' City Hall, 2010
---
PHOTOS & VIDEO:
Marcus reading Sycamores and Buddha
at the Brugge Public Library, April 2009.
From Leaves Painted Gold to Please a Child.
---
VIDEOS:
Marcus reading poems from Angels at Work in videos by Charles Pieters (YouTube):