This was Marcus' contribution to 'Bruges, Cultural Capital of Europe'. The poem Time from this collection has been partly calligraphed by John Meyfroodt, who publishes Marcus' books. The book cover is by Horst De Blaere and Marcus.
Hear and see Marcus reading from this book on in videos by Charles Pieters, on YouTube here.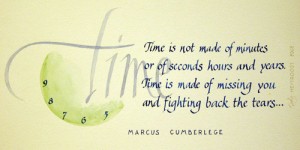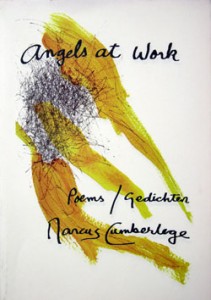 TIME
Time is not made of minutes
Or of seconds, hours or years.
Time is made of missing you
And fighting back the tears.
Time is not made of music,
Which just helps the moments pass;
Its limbs consist of rolling
On the fresh-mown summer grass.
Time is not old and boring
As a man can sometimes be.
Time is the ageless heartbeat
Of the deep, mysterious sea.