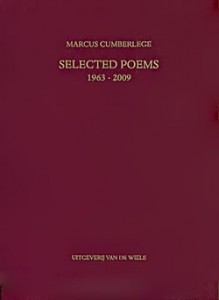 Published by Uitgeverij Van de Wiele, Brugge, 2010. Cover design by Max Van de Wiele
"This book is cause for great celebration. It bears witness to the long pilgrimage of Marcus Cumberlege, the poet and the man." From the Introduction by John Weston.
DEDICATION
To my sister Finola in Australia
"We live to discover beauty.
All the rest is a form of waiting"
– Kahlil Gibran
VIEW VIDEO (on Vimeo)
The video presents the launching of Selected Poems in the Gothic Room of Bruges' City Hall, with introductions by fellow poet Staf De Wilde, publisher Anette Van de Wiele, Alderman of Culture Yves Roose, and Sir John Weston, poet and former British Ambassador to the U.N.  
The musicians are:
Hannelore De Vaere (harp)
Gilbert Isbin (lute)
Video produced by:
Didier Eeckhout http://difilm.webs.com