Published by John Merfroodt
Many of the Poems of the Month featured on this website are included.
The limited edition of 200 copies was offered to invited subscribers in the first instance.
Marcus writes:
"To put it in a nutshell, Reflections in Water maps my spiritual journey from depression to freedom from the same, indeed to the discovery of a spontaneous joy-in-life, with many ups and downs in between. Each page contains about  25 "seventeeners", or  lines of 17 syllables that tell the story of my day or night, quite ndependently of one another. I employ "the language that men do use" (Wordsworth), and strive to make myself understood to people with experience of depression as well as more general readers who only have a limited grasp of English. My Selected Poems appeared in 2010."
Wedding Photograph, below, is the epilogue of Reflections in Water.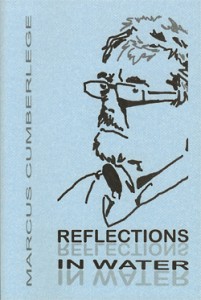 WEDDING PHOTOGRAPH
Markitos stands at the garden door staring through the glass at the full moon.
He's completely free from the after-effects of night medication.
I'm making you a silver ring for when you visit me in prison.
Yesterday was our wedding anniversary. I hardly saw you.
My coffee table was covered in flowers. You'd been to the market.
Kuan Yin took care of me all day. I consulted freely with the goddess.
Looking at you I'm in touch with Laforgue and the ancient Mexicans.
Nothing whatever makes me afraid, for I have a right to be here.
This is my appointed place, here at this desk, putting words on paper.
My children will be here from France tomorrow. Eleven eleven.
It will give us a chance to talk about the baby from Bangalore.
Fate is not blind. Everybody gets an opportunity in life.
What is the name of that waking star? I think it must be Jupiter.
I cannot put my pen down. I am drunk on the moonlit elixir.
Wild Flemish women are coming to clean the house and cut my toenails.
The tireless white lady of Taurus is a photograph of your face.
I wish my father and grandfather had known the happiness we share.