(Taken from the cover note)
Passionately, humorously, with deep commitment to human and spiritual values, Marcus Cumberlege now offers us his most versatile collection to date. Apart from the usual poetic themes of life and death, pain and joy, love and advancing age, he handles his own alcoholism and manic-depression with refreshing honesty.
"His innocence makes lyrical even the nasty." Frederick Grubb, Tribune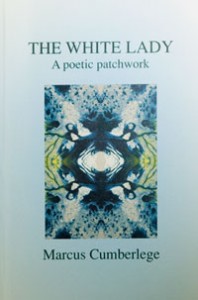 TO…
Woman, to what shall I compare you?
And how shall I capture you with words?
Your face is as fresh as a spring morning,
Your breasts have the warmth of brooding birds.
You have the ringing laughter of April
And all the green innocence of May.
Your promise endures for a lifetime
But theirs only lasts for a day.
Could anything be softer than your skin,
Anything more heavenly than your eyes
When you look at me for the first time
In a flurry of mutual surprise?
In the solitude of my garden
Where the pink rhododendrons flower
I sit at a table and dream of you,
Putting time out of mind for an hour.
You are in the rosemary and lavender,
You are all around me in the air.
I bravely declare that I love you
And you listen – but don't really care.