Photos of Ieper, 1936-39, taken by George Watson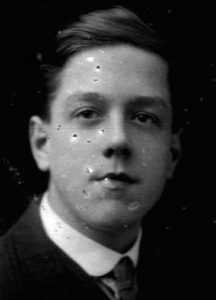 The photo shows George Watson at 18 yrs – in the Merchant Navy
Below is a set of photos on a CD which belonged to the late Harry Canvin.
Provenance of the photos: They were given to Harry by the daughter of the photographer, George Watson, as Harry explained:
"At the age of 18 George Watson had achieved commitment in 1918 to being assistant to the Chief Telegrapher on merchant ship Grampian, which got him to New York many times. He detailed his crossing and social gatherings in exercise books.
Later in life he was to become head of a Manchester school and during his long school holidays between 1936 – 1939 was to use his skills to photograph the WW1 Western front between Ostend and Switzerland. Some of his work was published in many 'Then and Now' books appertaining to that war.
But the second war was approaching and later George Watson was to use his skills with the equipment which allowed him be a 'Radio Ham' by using it for his country in intercepting radio messages and reporting them to his boss (Bletchley Park?). His daughter told me he spent all evenings in his lock up shed down the garden!
I have a defused incendiary bomb which the enemy dropped in his garden, so he must have been disturbed sometimes. After that war Mr Watson was sent a letter from the 'bosses' department thanking him for his work. This I presented to Bletchley Park (they already had many).
My complete family always spent Easters near Betsy Coed on an old 30 acre farmstead which I called Shangri-La because it was nestled in this wonderful valley complete with a brook and fast river fall tumbling through the huge rock; often our grandsons refused to leave this playground for the day.
Mike and Maggie the owners became our good friends. Maggie was clearing her father's home after his death, and knowing of my WW1 interest asked me if I would like the treasures – books, maps, documents, picture post cards sent home after western front visits, merchant navy passport and documents, together with uniform apparel.
The only pieces I have moved on are the negatives and prints to those that can use them best; some I took to the Loos war museum."