Harold Wild's Diary – 1919
January 1919
4
Went to an ILP reception & re-union. A small turn up owing to poor condition of streets due to heavy snowfall.
18
A 'Mac's' Social held at our house. About 30 present. [Only a small house!]
24
Birthday advance of my wage by 2/- to £3. There was also a rise from Jan 1 of 6/-.
27
Had tea at the Friends Institute.
February 1918
2
After the ramble – which I led – I took Macauley to Mrs Watts, where, at the NCF group mtg Mrs Cunningham, spoke on the Brest Historic Treaty
[writing unclear].
3
At a branch mtg I gave in my resignation as financial sec. of the Mcr Central Branch of the AUCE
[However, he continued to be involved. It seems as if some sort of financial mess had been left by the previous secretary.]
[He describes a friend's 25th birthday party, which lasted all night (Friday) and on Sunday he gave a talk about Rambling to the Adult School (Quakers)]
Tues 11
A full staff mtg was held, at which the position in our negotiations with the EC was explained for the benefit of the demobilised men.
[By now my father had thought it would be good to work his passage round the world, by boat. He was taken by a friend on a tour of M/c Docks, and also he applied to Marconi to train as a wireless operator.]
Wed 19
Social gathering of NCF group.
March 1919
Wed 12
Took my first course in Wireless Telegraphy. After the school I took car into town for the NCF mtg.
Sat 29
The Mac's Ramblers held a highly successful social & dance at the Gorton ILP rooms.
April 1919
1
Branch mtg of M/c Central AUCE
Friday 4
Wireless School closed for alterations.
Monday April 7
Busy & decided to miss the school again.
Wednesday April 9
Met some of the released absolutists at the NCF mtg.
Friday 11 April
Missed Wireless School once more owing to an interview which Mr Lumley had arranged with Wilfred Schofield. Four other members were present also. Mr Scofield undertook to refund next week the amount shown against him – £6 or £7. [This was received on 16 April.]
Wed. April 16
RJD gave me the warning that I shall probably have to finish before Whitsuntide.
At night I received a tapper [Morse code transmitting key] from the Wireless School for which I paid 9/6. The school closes tonight until May 5.
May 1919
April 28, May 2, May 7,
Being busy I missed the Wireless School on these nights.
8
As representative on the Mac's, I experienced my first meeting of the PD &NCFPS.
[This was the Peak District & Northern Counties Footpaths Preservation Society, which later became his over-riding interest. For many years he was a footpaths inspector for them, then Secretary, and finally Vice President. As a tribute to his service to the Society, a footbridge was erected to his memory in the village of Rowarth, Derbyshire, just near to the Little Mill Inn at Rowarth: see the photo below.]
12 & 14
Attended wireless classes.
15
Received in reply to my enquiry, a letter from the Marconi Co. stating that they regretted my slight lameness would prevent me from passing their medical test, even tho' I might have secured a P.M.G. certificate. So end my immediate intentions of studying, securing an appointment on board in order to find time to study languages. Actually I have been on 'tapping' and receiving the whole time I have been at the school & have had no theory lectures of any kind. I have a pretty fluent knowledge of morse & a little other knowledge.
I have spent 3 guineas in all [a week's wages] (£2.10. 0 on fees, 9/6 on a tapper and 3/6 on a book from them – Electricity & Magnetism).
30
Mr E., Miss H., & myself received a week's notice to terminate our employment.
31
Went with friends to see Beecham Opera – Il Trovatore.
[There is a list of the main cast members, and then the diary finishes.
A further section in the book contains lists of Rambles & Holidays, some weekly cuttings from the Mc. City News of the Mac's Ramblers and various miscellaneous entries – payments to organisations, and the cost of upkeep on his bicycle.]
---
The Dedication of the Harold Wild Memorial Footbridge, Rowarth, 16th May 1982
(see entry for May 8th 1919, above)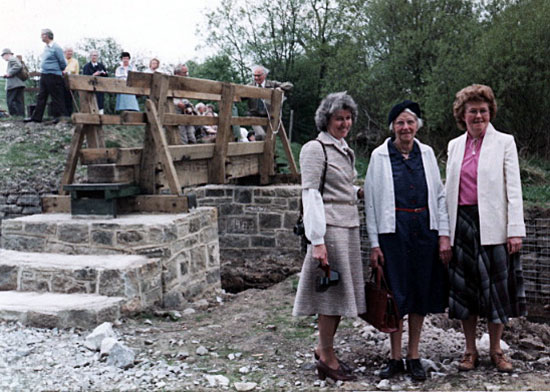 Dorothy Spence, daughter; Mrs Dorothy Wild, widow; Pat Moneypenny, daughter.
---