Sid Brown (died aged 21)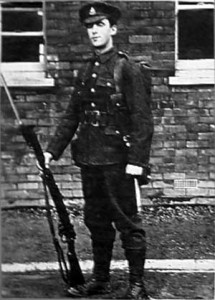 Sid would have been my great uncle, on my mother's side. His younger brother Arthur (mentioned in the first letter) was my grandfather.
Private Sidney Brown died 15th September 1917, aged 21.
Originals of the letters below are with relatives in the USA. The older brother Sam (second letter) moved on from Australia to the USA in the 1920s.
Yvonne Alton
From Pte S Brown, 3rd Batt, Notts & Derby Regt, D Coy No.18554
Crown Hill Barracks, Plymouth, Feb 26/15

Dear Mother,
Just a line or two in answer to yours hoping this letter will find you in the best of health as it leaves me in the pink. I was very pleased to hear you are faced up about the money. You are only getting what is due to you although I don't expect I shall have much to draw for a week or two as that back money will have to be stopped but I've nearly got a sovereign saved up so I shall be alright. I received your parcel quite safe by the post after the letter, and the tarts don't half go down nice. I'm having my photograph taken sometime next week so you will see what I look like as a soldier. We are having splendid weather down here just now, all round Plymouth in the woods there are plenty of promroses and violets out, they do look grand. Please tell Harry I received his letter and tell him my future is alright as I've decided what my life will be now. G. Simpson is being shifted into a different bay now, but I've got plenty of friends both in and out of the barracks. Please remember me to Grandma and Arthur.
To his older brother Sam

June 19th (1915?)
From Ptr S. Brown, No 18554 3rd Bat, (Sherwood) Foresters, ?? Bay, Sunderland

To my Dear Brother,
Just a few lines in answer to yours. I am answering your letter as I am going to France in a day or two. I only just received it so it has been a long time on the way. I don't think much of the photograph as I only look about 5 foot instead of 6. I am very pleased to hear you are in the best of health as this letter leaves me in the pink. If I don't come back, it won't be my fault, and I am very pleased to be able to tell you I'm a lover and server of Jesus Christ. I first started to serve about 6 months ago and I find I'm much better satisfied with my life. Please don't bother about me shooting straight or sticking one or two as that is what I'm going for. They gave it us pretty hot in training at first, but I always kept pretty fit so I didn't feel it much. I know I am a lot better for it. We moved from Plymouth up here about 6 weeks ago and are on the sea coast and the weather being hot we get a dip in the sea every other day. We have had the zeppelins here a time or two but never managed to get one yet. I had a letter from Mother last week and she says she has never heard from you since Christmas. You might write a letter more regular as you know she is often thinking about you. I should like to drop in for tea sometime and see how you were getting on. I expect you are pretty comfy by now. If I get through this lot I think I shall come and have a look at you. I have a pocket book, and I've copied you a few lines in it as I think they are beautiful lines. We are having a lovely summer here. I know I should have had a good time had I been at home. I think I shall be able to appreciate home a bit more when I get back.You must please excuse writing as I am in a hurry. Well I shall have to conclude so sending best love to Ada, Elsie and yourself.

I remain
Your loving brother
Sid XXX

Please give Elsie one of these kisses.

Teach me to feel another's woe
To hide the fault I see
That mercy I to others show
That mercy show to me.

I will write and send you my address
dont write to Sunderland